Groomer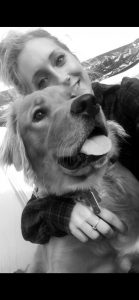 Beth joined our team in August of 2018. She is from the Fostoria area. Currently, she does not have any pets but plans on adopting many dogs in the near future with her husband, Zeb.
Beth went to Bowling Green State University for two years and Owens Community College for two years. She graduated from Owens with an associates degree in business (entrepreneurship) and spent 9 months in dog grooming academy. She has been a certified dog groomer since August of 2016 and has groomed over 3,000 dogs of all breeds, shapes, and sizes. She chose to be a dog groomer because she loves working with animals (especially dogs) and is passionate about helping the dogs feel and look their best.
When Beth is not busy grooming dogs, you can find her doing one of many activities she enjoys. She enjoys crafting, reading, watching Netflix, and spending time with friends and family.