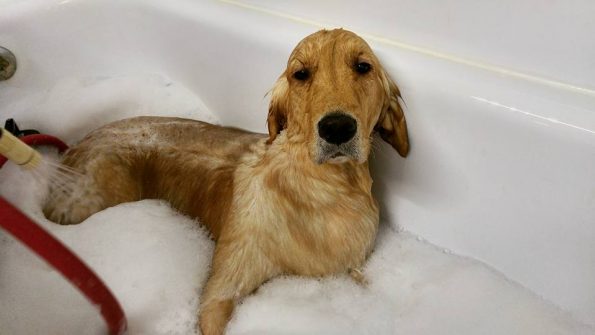 Let us help your dog look their best!
It happens to all dog parents, your dog decides to romp in the mud, roll in something smelly, or even try to play with a skunk. When this happens, let us help with the responsibility of cleaning your dog! At Tri County Veterinary Clinic our trained and caring professionals have all the best tools to make your dog look as good as they feel.
Our baths include: bathing with shampoo and conditioner, brush out, nail trimming, anal gland expression and ear cleaning.
As with any pet who stays with us, we require your dog to be current on the following vaccinations for their health and safety before their bath appointment:
Rabies
DHLPP
Bordetella
Influenza Series
Additional charges may be added if your dog needs additional help trimming nails, has matts that need to be brushed or shaved out, or if they need a medicated bath. If you would like a quote for your dogs bath, please call the office so we can better assist you!
We schedule baths on Mondays, Wednesdays, Thursdays and Fridays so be sure to call the office at (419) 435-7642 to schedule your dogs spa day!